BRADY'S VALENTINE'S DAY MENU 2023
Special VALENTINE'S DAY Menu + Optional Valentine's Day Bouquet on your table by our floral design partner, Fleur du Jour!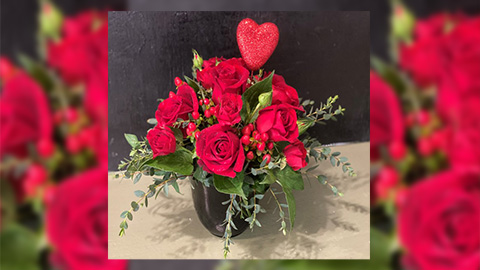 In addition to the Special Valentine's Day Menu below, we are working with the local florist, Fleur du Jour, to offer a Valentine's Day Bouquet option/add-on for reservations Tuesday, Feb 14th - Saturday, Feb 18th. Your table bouquet is $55 and will be added on your bill and paid on the night of your dinner. The bouquet will be preset on your table prior to your arrival!
Please either call Brady's at (978) 537-7111 to place your table bouquet request, or include a note on your Online Reservation Booking requesting the bouquet.
MAKE AN ONLINE RESERVATION NOW
—STARTERS—
Cajun Scallop & Sweet Corn Crème Brulee
$ 18
Avocado, Corn-Chili Salsa, Corn Tuille, Finger Lime
Pumpkin Bisque with Cinnamon Crème Fraiche
$ 12
Served with a Side of Spiced Rum
Balsamic Onions, Baby Greens, Buttery-Brioche, Pomegranate Molasses
Served with Kimchee & a Spicy Apricot Plum Glaze
—COURSE II—
Served in a Crispy Asiago Bowl, Tossed With Parmesan Croutons & a Creamy Lemon Dressing. White Anchovy Upon Request
Prosciutto Wrapped Mozzarella Salad
$ 17
Heirloom Tomatoes, Field Greens, Basil Jello, EVOO, Aged Modena
Wrapped in a Cucumber Turban with a Honey Dill Vinaigrette
—INTERMEZZO—
—ENTREES—
Grilled Long Island Duck Breast, Slow Stewed White Beans, Mirepoix Vegetables, Cognac Finish
Fire Cracklin Pork Shank
$ 38
5-Hour Braised Hind Shank Served with Roasted Garlic Mashed Potato & Root Vegetable Demi Glace
Grilled Long Bone Veal Chop
$ 55
Golden Beet & Sweet Potato Hash
Haddock Belle Helene
$ 42
Atlantic Haddock, Scallop Mousse Stuffing, Topped with Saffron Aioli & Maine Lobster Claw
Pork Belly Confit W/ Diver Scallops
$ 42
Served in a Salt Cod Bisque with Roasted Fingerling Potatoes
Seared Moroccan Spiced Tofu
$ 29
Blood Orange & Mint Vegetable Cous-Cous, Green Onion Coulis, Pink Peppercorn Toasted Almonds
—DESSERT ($11.99 each)—
Served with a Side of 3 Sauces — Strawberry, White Chocolate, and Raspberry Puree
Served with Vanilla Iced Cream and Calibault Chocolate Pond
Pistachio Encrusted Chevre With Blood Orange Filling
Coscia Bark, Poached Pear, and Pistachio Brittle
Served with Smoked Maple Bourbon Ice Cream
Served Pecan & Brown Butter Ice Cream